From time to time we put our hands together enthusiastically and give a round of applause for Upcycling – the art of taking something that's old or is waste – and giving it a new lease of life. The breadth of really clever stuff going on to make desirable objects out of things (that were almost certainly destined for the bin or tip) never ceases to amaze us.
So, as creativity seems to know no bounds, we thought we'd look at what new creations those clever up-cyclers from around the world have dreamt up lately. And for more and more of these creative entrepreneurs, upcycling is taking on a business direction – particularly as the cost of furniture storage is as flexible and affordable with self storage. So here are our latest favourites…
1. Temporary storage chairs
If you find you need storage space on your walls, but only as a temporary measure, then YiCongLu (a German designer-artist) has a clever idea. Simply hang folding chairs on the wall. When not in use they're just an interesting modern art installation, but when the washing needs hanging, or the dinner party groceries arrive, they come into their own. You could paint them in different colours. Red, White and Blue perhaps.
2. A New Broom
Remember the scene from Only Fools and Horses where Roger Lloyd-Pack's (RIP) Trigger espouses his ability to save the Council money sweeping Peckham's streets – by making his 20 year old broom last 2 decades. No? OK – here's a little reminder…
Well here's a way he could have saved Southwark London Borough Council money for real. It's a broom made from 2 litre fizzy drinks bottles. Here's a chap called Bernardo showing us how…
3. Skate Deck Table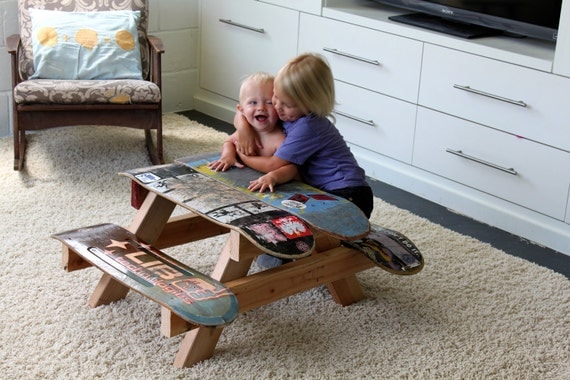 If your teenager is shredding through skate decks, don't let them throw the old ones out. You could use them to make a brilliant picnic table for their younger siblings – but it could be a great first project if you fancy a foray into upcycling – you can even buy full instructions for this over on Etsy. You'll need some additional timber for the frame, and just make sure you serve shredded marmalade, and everything is awesome, man.
4. A whole new meaning to bookshelf
Bookshelves – a functional name – so called because they are a solid shelf on which you can store books. But how a bout a bookshelf made from a book? It's a simple concept. Take an unwanted hardback book, turn it sideways. measure its width. Fix 2 90º brackets to your wall – you could buy proper shelf brackets from somewhere like Ikea or you could simply use angle brackets that you can get in the hardware store for pence. The need to be at level height and within the width of the book that you measured … Place the book on the brackets and affix with screws from beneath. Hey presto – a bookshelf, in form and function – and the choice of literature is of course yours.
Of course, if you're considering a foray into upcycling yourself, you might need London storage space to keep your furniture and materials supplies 'pre-elevation'. You'll be after somewhere that's great value – where the cost of storing furniture isn't that metaphorical arm or a leg. Somewhere like ABC Selfstore – where you'll only pay for the days you stay.