Our passion for clever storage doesn't just cover the units that we rent at our London self storage centres, oh no. Creative and ingenious use of space makes us go – ooh-ahh-just-a-little-bit – wherever and however it manifests itself.  There's nothing we like more than seeing how some clever person has spotted how they can make use of a few square inches that might otherwise remain redundant.
But getting all enthusiastic about 3 dimensions is not something that is easy to visualise for most folk. So, to assist in this series of voyages into visual discovery, we've turned to Pinterest. Here then (with a little help from virtual pinboard windows on the the world) is the first instalment of our look at ingenious storage solutions. And as homes and houses seem to be where the nooks and crannies of opportunity meet the drawers, doors and sliders of creativity, we'll begin there. So, as the doormat says, "welcome" to the hallway…
Hallways are important. They're the room that welcomes you in. A place to transition between whatever the weather has been throwing at you and the warm, convivial comfort of your home. But as a room that we just pass through they tend to get overlooked. For most a dresser and a few coat hooks are about as far as we take things. But when you think about it, there's a whole lot more the hallway could be doing – particularly with storage. Coats, hats, gloves, scarves, brollies, wellies, cycle helmets, cycle lights, fluorescent bands, head torch, … the list goes on and on and on.
More often than not, hallways feature a stair case. So let's start there. The triangular void under the stairs is not famed for being usably useful. Here are a few of our favourite solutions to make it a much better use of space…
You might conventionally use the space to keep the vacuum cleaner or, maybe at a push, the ironing board. So to make that awkward gap far more helpful, how about a movable modular installation that neatly hides away all the things from that list we started? There's hooks for coats and scarves, a drawer that's just right for shoes and another that would be perfect for hats and gloves.
If your stairs don't offer that opportunity or aren't in your hallway, you might have some form of cupboard instead. If it is a walk-in cupboard you might choose to for it with some brilliantly practical shelving – like this one above. With a hook for each member of the family, a shelf above (with a basket ) for hat & gloves and a couple of lower shelves for shoes and boots – it's a neat idea for storage and organisation of any hallway.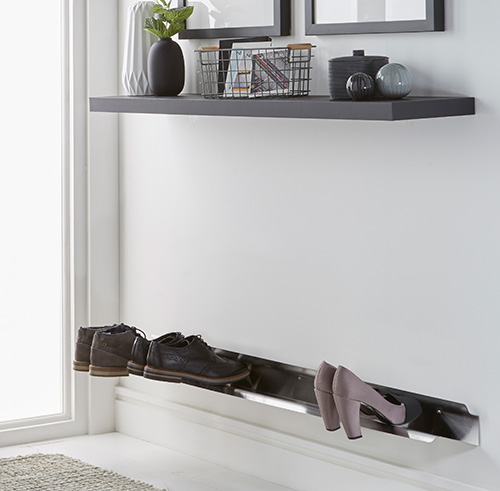 If you're into minimalist storage, then how about this innovative shoe rack? It'll keep your Ones-and-Twos all neat and and tidy like. You can even maintain his and hers ends, so the mrs will be able to admire her Jimmy Choos.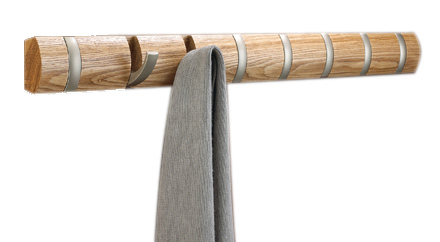 If that cool shoe storage shelf rocks-your-socks, then how about one of these equally cool and minimalist coat rails on the wall above it? Available in gloss white, natural wood or dark expresso, they look a bit like an oversized guitar fretboard – but the 'frets' cunningly flip out, to provide a very smart coat handing solution.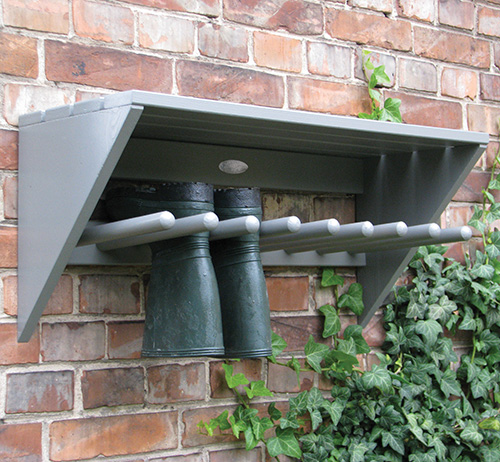 Finally, not strictly the hallway… but especially for the welly brigade – how about this wall mounted outdoor welly store? You can put it on the wall outside the back door, and by storing your wonder rubber footwear upside down they'll stay high and dry. The only small drawback we can think of is those winter days when the outside temperature is hovering around the 0ºC mark.
If you liked that little collection, keep an eye out for the next instalment of Ingenious Storage Solutions on Pinterest – when we'll move into the Kitchen.