Regular readers will know of our obsession with innovative storage. When it comes to saving space we just can't get enough of slick solutions that make you say, "ooh, that's quite clever."
So in this blog we thought we'd take a look at some of the best gadgets available to make better use of the space that you have, or to keep things nice and secure… Vacuum packed – lots of things that take up room in a household are textile based: clothes, skiwear, bed linen, bathroom towelling and furnishings. When they are not is use we tend to fold them up and pack them away – usually under the bed. But all that material holds air, which means a lot of that space is actually taken up by something that could be squeezed out. Enter the ingenious vacuum storage. Available from most good homeware stores, they're a simple but clever idea. A tough air-tight bag with a one way valve – place your vacuum cleaner nozzle over the bag, switch on and suck all the air out! 
Compress to impress – A different take on the vacuum bag – these ingenious bags have a series of one way valves to squeeze the air out, which mean you'll need to put the effort in yourself. Consequently there's bit more to it than simply switching on the Dyson with a vac-pac bag… we'll let the lovely lady from U.S. firm Eagle Creek show you how it's done…
Secret storage – A few places around the house have 'lost' void space that goes unused. We love gadgets and ideas that tap into that and create hidden storage. Here's a great example – under bath storage – a special bath panel that has removable sections. Perfect for storing all the cleaning kit that you would otherwise have cluttering up your smart bathroom.
Safe and Secure
Sometimes storage is not about spring lots of bulky items or better use of space. It is about keeping things safe, sound and secure, especially if the light-fingered lads are having a spree in your neighbourhood. For many of us that means the back of a drawer, under a cabinet or a digital safe that you hide somewhere in your property. But there are some other solutions that you might not have considered…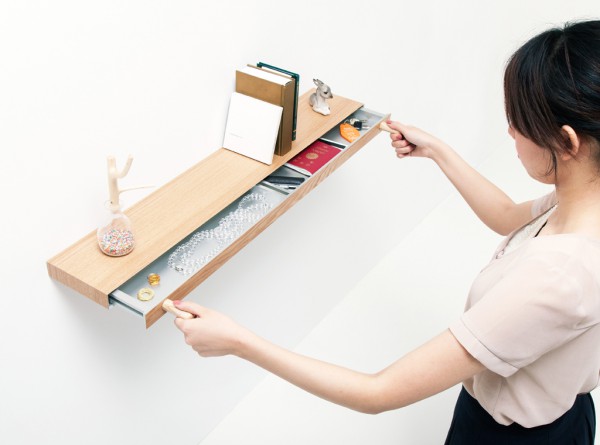 First up is this shelf from Japanese architectural firm Torafu. Called the Clo (we have no idea what that means in Japanese) it looks like a simple shelf – albeit a smart one with no visible means of support.
Slide it forward though and hey-presto – there's a secret drawer in there for your 'flat' valuables. Ideal for passports, documents and smartware. If you're handy with your power tools you could even make your own… here's how:
If a hideaway shelf is a bit beyond you (or ordering furniture long-distance in Japanese is not your strong point) you might try the Spy-bolt Hidden Storage Safe. It looks like a bolt and works like a bolt, but it's hollow, so you can keep things in it – although it's not that big so is really only good for emergency cash, diamonds or blueprints on a microfiche. Apparently it is based on the Soviet KGB 'dead drop' cylinder bolt used in the cold war, it even has a Facebook page… 
If the bolt  definitely sounds your kind of thing, you'll also need a place to keep you passport and travel documents. So how about a pair of passport socks. They might be a bit more Monterey Jack than Jack Bauer by the end of a long-haul flight so  just be careful if  you're asked to produce your documents at Passport control.
And finally (drumroll). Not strictly storage, but probably the coolest gadget so far to emerge from smart-dom to help you keep track of all your stuff: Tiles. It's a little plastic block that you attach to your valuables and can track on your smartphone. They're a bit like those 1980s whistling key rings, only much more sophisticated.
And, of course, if you need more safe and secure storage than you've got squeezed into your home, a self-storage unit at one of our three London locations is just the job.