It's time for part 3 of our look at ingenious storage solutions, so kick your shoes off, slide your slippers on, pour a glass of wine and relax – because for this one we're going to chill out in the living room.
In the days of smart TV's, the cloud and streamed content, there's perhaps less stuff to find a home for in a living room. But that's not to say you still won't need some snazzy storage – there's still plenty of tech – remotes, games consoles, controllers, gaming media – and of course somewhere to keep the tablets that have become a digital magazine rack, TV schedule and music library all rolled into one.
On the other hand, you might also be feeling a bit old school – nostalgic for the weighty feel of a good hard-bound book, or hankering after the hand-cupped-round-the-edges sensation of lowering a vinyl "72 on to your turntable and (to quote M.A.R.R.S in 1997) put the needle on the record.
So – whether you prefer the digital cutting edge or in 'old-skool' space hungry physical object camp – here we go with our round up of ingenious Living room storage…
Desirable Living Room Storage for a Digital Life
If you're into the digital life, then you'll probably have a good collection of remote controls, gaming implements and sound system paraphernalia  adorning your living room.
From steering wheels' to Tennis rackets, guitars, drums, dance mats and balance boards and an iRemote – not to mention various weapons such as nunchucks and pistols,  – it all takes up a lot of space.
Leaving all that gear out makes for a very untidy living room, and not a conducive space to chilling out and watch a movie, or sit and listen to Chopin. So how about a clever storage footstool?
Whether you're getting your fix of mid-week premiership football, watching Lewis Hamilton winning yet another Formula 1 race on a Sunday Afternoon, or just digesting another episode of the Great British Bake Off … a storage footstool means you can, quite literally put your feet up, without worrying that you'll be balancing your heels amongst your tech.
Living Room Storage for Analogue Enthusiasts
If you prefer a more analogue life – with real vinyl records, books that actually have paper pages and magazines you flick through in the ad-breaks – then there are lots of options for making your living room
The Sofa Wrap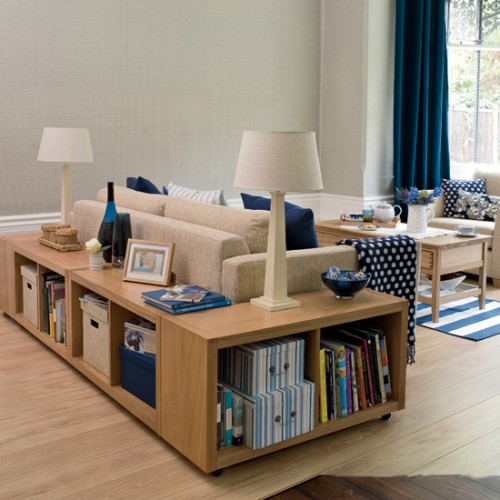 No, it's a not a clever use of vinyl to change the colour of your furniture, it's a way of making the space around your sofa more of an attractive storage feature. A bit like an 'Island' in your kitchen, this idea sees your sofa in the middle of the room, surrounded back and sides by some low level shelving.
You can also use it for a couple of table lamps  – which will be especially handy to illuminate those brilliant Storm Thorgerson album sleeves – when you're having a Pink Floyd afternoon.
The Ultimate Woodpile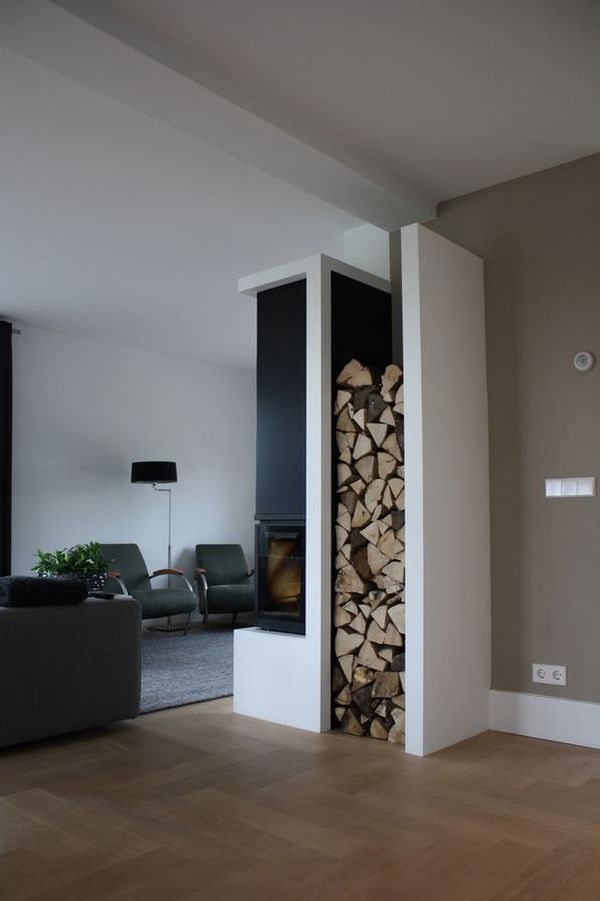 If you're lucky enough to live far enough out of London that you can have an open fire, or wood burner, then this false wall woodpile is a really clever way of keeping your wood pile organised.
You'll no longer need a wicker basket taking up space, and which inevitably runs out just at the snuggest point in the evening so that you have to go out to the wood store in the freezing cold.  No, this little beauty means that you'll have plenty of fuel and it'll be lovely and dry, meaning your fire will burn with maximum efficiency and won't clog your chimney with tar.
A Fitted Wall
You've seen them in bedrooms aplenty – so how about applying the same idea in the living room? Incorporating room-wide fitted shelving and a recess for the flatscreen TV this storage wall gives more than enough space for even the most analogue of homes.
---
If that's given you some inspiration to get your living room straightened out, spring is just around the corner. We'll be back then with the next instalment of our ingenious storage solutions – when we'll look at the dining room.