There are lots of things that are awkward to store away. Whether odd shaped, fragile or plain ungainly, there's no easy way of storing them, so we balance, cram, stuff, cover and squeeze them into spaces and places that certainly weren't designed for them.
So we've been looking at storage gadgets – clever solutions to keep everything in order – but aren't always what they seem. So here's part 1 of our look at some storage gadget ideas that mean there's a little less shambles on your shelves or chaos in your cupboards. 
There are lots of things we like to own or keep that make life more interesting. But so many of them don't stack or store simply. Which means storing them can be tricky. From tools for home maintenance and DIY to recreational equipment including artistic materials, musical and sports equipment. Here are a few of our not-what-they-first-seem favourites for storing some of your stuff.
Double-Up-Bass Storage Cabinet
Like so many musical instruments, you can't deny that the double bass is a difficult one to find room for, or store. Even in a protective case or bag, the shape is decidedly awkward. And if the one you have is a cheap 'starter' example – you probably won't be able to make any meaningful money out of selling it. So let's assume it is just taking up room, and that you (or your child) has given it up as a hobby. What could you do with it?
Well how about the Double Bass Storage Cabinet? You could mount it on a stand, take a jigsaw to the back edge of the front seam, add a couple of hinges and some interior shelving… and hey presto: a Double Bass that doubles up as a storage cabinet. Hang on. A double bass that doubles, shouldn't that then be a Quadrupole Bass?
Gift Wrap Storage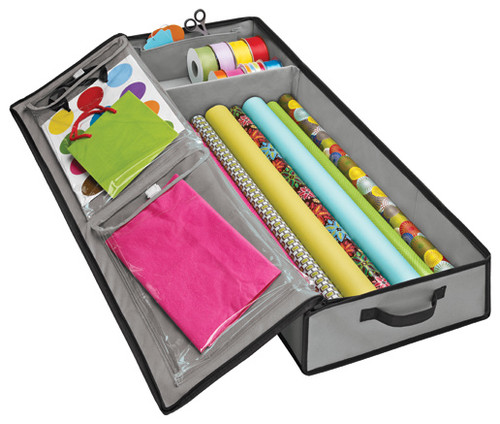 Gift wrapping paper is another notoriously difficult item to store. Rolls of paper tend to get crammed into a shopping bag and stored vertically. But how many times have you found that it's fallen over or got squashed? And then you can't find the Sellotape and ribbons to go with it as they're somewhere else, in a different cupboard.  
The Gift Wrap & Tote organiser – available on U.S. site Houzz – is perfect for keeping all your wrapping resources neat, tidy, together and protected. So long to squashed or creased wrapping paper rolls – plus, you can even keep gift bags in the front flap. Just right for when you need to wrap something quickly.
Tech Storage
We've come to love our tech and most of us wouldn't be without our smartphone. It's hard to believe that the smart-tech-revolution isn't even 10 years old yet (the first iPhone came out in 2007). But if you're in a household where everyone has one or more devices, you might find the sideboard is somewhat cluttered. The Gear Gripper looks like the perfect solution to that problem.
It's a flexible gripping mat that can be arranged to store all those bits of tech in one handy space. Unfortunately – it seems it was invented in 2008 and didn't take off (it's no longer available to buy) – so is an erstwhile great idea that is consigned to the history books.
Stack Your Cars
Now this one might be out of the price range of most people, but if you like your motors and are stuck for space on your driveway, how about one of these from Swiss company Cardok? A modern take on the old over and under – it keeps both motors accessible whilst minimising the footprint to just one. Of course, it would mean some pretty serious excavations in the garden.
If you're just after some more conventional storage then how about a self storage unit at one of our three London stores.