It's part 4 of our look at ingenious storage solutions and we've moved through to the dining room. Now, just before you get excited, thinking we mean a Downton Abbey, silver service, complete with valets and a butler, type dining room – we don't. We're looking at the average household dining room, or dining area, as you're more likely to find in many London flats.
Clever storage for dining – especially in London – involves flexible space – and there are plenty of great solutions out there to make a dining area pack away when it is not in use. It seems sensible then, to start there…
Dining Rooms don't generally consist of lots of stuff – usually a table to eat at, some chairs to sit on and a sideboard for placemats, cutlery and condiments. In fact, if you've got a dining room in London, you've either have a reasonably sized property or are a fanatical foodie. Far more common is the dining area, some space in the home where you gather to dine, but can be used for a different purpose at other times.
We've had a look at both – so whether you're a contender for Masterchef, or just looking for somewhere secure to land your cereal bowl and latte in the morning – this one is for you.
Extending tables…
We've had a look at the brilliant Goliath table from Resource Furniture before. But it's so good we had to mention it again. This 10 foot table counter can be designed into the end of a kitchen unit – making a useful work/dining space for breakfast or lunch, but also a big dining expanse with enough room to have your friends for dinner. Of course, you'll need chairs to go with it – but they have those as well – a series of folding chairs that fold almost flat – and can be hung on a wall (or in another kitchen counter).
If the Goliath is a bit austere looking for you, then how about this Tavolo Transformable from Italy? It looks like a rustic coffee table and a painting. But lo and behold, in the blink of an eye – like the Goliath it becomes a sizeable ding table. We particularly like the 'hidden' table leaves concealed as a painting on the wall.
They both mean that your dining space don't have to be dining space 100% of the time – so if you've got a family and need the flexibility, a solution like this is well worth considering.
If flexible space is less of an issue and you require a more permanent dining table, then how about this version – with storage built into the legs? Cutlery, condiments and napkins will all have somewhere neat and tidy to be packed away – and be accessible when it's time to prep for a family meal. We found it over on housetohome- if you're looking for some wider inspiration on dining room storage.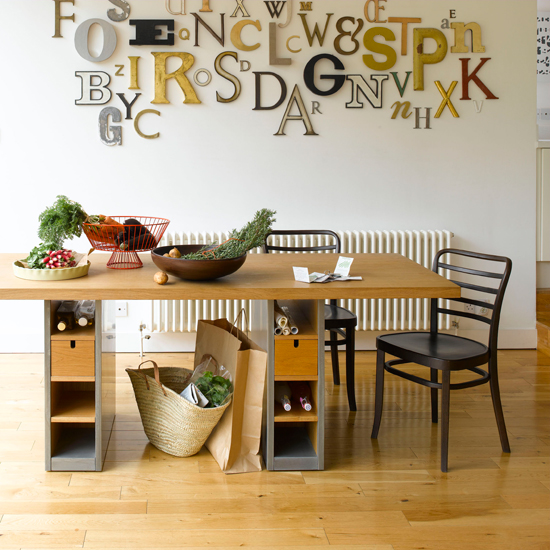 Of course, if you need storage for anything – perhaps you're having your dining room refurbished and need somewhere to temporarily keep the furniture – we can help with that.