The nation's favourite baking show kicks off tonight. You know the drill- where judges Berry and Hollywood (which we think sounds like a great name for a range of upmarket Ice Creams), along with hosts Mel and Sue will be putting 12 skilled amateurs through their paces in baking the best of British.
So to help celebrate, we thought it would be timely to take a look at some groovy kitchen storage that might make life a little easier to bear in your private baking space. So – from keeping flour fresh to eggs organised, jams jarred to sugar sorted – we've picked 3 simple but creative storage solutions to help you bring order where there once was none…
We hear lots in the media how people are cooking less, and less capable when it comes to preparing food. How ready meals are taking over in our busy lives. So thank goodness for programs like The Great British Bake Off – inspiring people of all ages and cultural backgrounds to don an apron and get to grips with a wooden spoon and a mixing bowl.
If last years show inspired you to get a little more handy in the kitchen, you could well now be suffering a crisis of space – where you're struggling to organise the provisions and keep the cooking gadgets in some sort of order. Fear not little Chef, here are some solutions. And in true Bake Off style – sometimes the simplest dishes are the best.
1. Shelves, within shelves
Kitchen cupboards tend to be tall, thin and with just one shelf somewhere in the middle. More often than not – in the overhead kitchen units – the shelf is inconveniently placed at around the limit of arm's length. That's fine if you're keeping some tall bottles of Olive Oil, or cooking wine (yeah, like there's really some of that left in our cupboard) or one of those absurd giant pepper mills for when you want to feel Italian.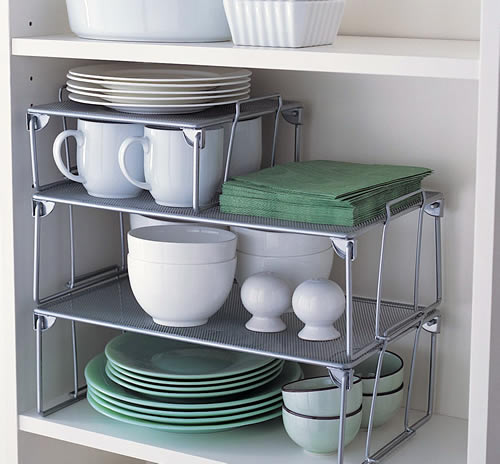 Here's a really simple (because sometimes the simple things really are the best) solution. Mesh stacking shelves that you simply place inside the cupboard. Available from aplaceforeverything.co.uk they're a snip at just £7.50. They'll allow you to fit more in those long tall cupboards – whether it be cups for espresso or cases for fairy cakes.
2. Be Lord, or Lady of the Lids
Saucepans sets usually stack – one pan inside the other – either on a shelf or in a drawer. And (in your best scooby do villain voice) you'd have gotten away with it if it hadn't been for those pesky lids…  Because they don't stack anywhere. So you pack them in around the saucepans and they clatter, clunk and just create a lot of inconvenience when you want to get the saucepans out.
We share your pain. So here's a really cheap and effective solution which we found over at Owner Builder Network. Buy a pack of coat hooks and/or a towel rail or two & fit them to the inside of your cookware cupboard doors. You can then store those lids for convenient use. Perfect for that moment that you realise the veggies haven't come to the boil and you might need to assist by keeping more of the heat in.

3. Retractable Spice Rack
Spice pots can be really annoying. The one you need will undoubtedly be at the back, and whilst you are moving the others out of the way they'll fall over, roll off the shelf and deposit their contents all over the work top. So you're left having to clear up a somewhat sickly combination of Five-Spice, Cinnamon and Smoked Paprika.
Drop-down Spice Cabinet racking system to the rescue.
U.S. site stacksandstacks have this lovely little number for 32 bucks (that's about 20 quid in our money). Just like those shelves within shelves, it's designed to sit in the cupboard. The clever bit is the drawer that slides out and lowers – allowing you choose your required ingredient without risking spilled spice armageddon.
On Bake Off they're often pulling contestants up if their workstation is messy. So if your kitchen is giving you nightmares in which Mary Berry is chasing you with a spatula telling you to tidy up your act – we hope these three  simple and cheap ideas help you make your kitchen a better space.