Woo hoo. Christmas is coming! So it's almost time the start the shopping in earnest. No, not Ernest as in the shop (Jones), we mean earnest as in the noun: in full seriousness. But what are adults hoping will be under the tree and in stockings for them on 25th December?
Well, so you don't have to go spend hours trawling the internet looking, we put one of our lovely team to work, they put in a call to the jolly bearded chap at the North Pole and asked him for his thoughts on what will be rocking the wrapped stacks under the christmas trees of Britain this winter…
ABC Elf, "So, Santa, thanks so much for talking to us. We really appreciate you taking a few minutes at what's undoubtedly a super-busy time for you. Firstly we wanted to ask how things are shaping up for you this year." 
Santa,"It's no problem, always happy to help – I've got a little more time now the strategic pre-christmas-eve-delivery storage is in place. Getting round the world and my in-flight re-stocking of presents is so much more straightforward with it all setup beforehand. Yes, preparation has been really good this year "
ABC Elf, "We're glad that storage is working for you. So, it's 2016 and we we're interested to know the must-have presents for adults – what could Mum's and Dad's get each other that will make this year special?" 
Santa, "Well, I'm usually more clued up on what the little ones want, but if the kids have been good, that usually means that Mum and Dad have too. I must stress I'm not Psychic, but the usual rules about Boys and Girls liking different things are as important today as when I started ." 
ABC Elf, "So what will Mum's like?"
Santa, "Well, Mum's like to feel needed and pampered. Quite right too. They do so many invisible things for the rest of the family throughout the year. So any gift that gives them time out for themselves or makes them feel special will go down well. Perhaps a spa break, or if the budget doesn't stretch that far then all the components for a night off – bath salts or bubble, scented candles, a bottle of wine, chocolates, some new bath linen." 
ABC Elf, "So pamper experiences will be a hit. What else?"
Santa, "Well if you're looking for trinket's to put under the tree there are plenty. Phone accessories and make-up make great stocking fillers, but for a main present more and more ladies are focussing on the to the new year to get into shape. So wearable technology such as the Fitbit tracker can really help record progress, which itself helps hugely with motivation."   
"Then there are plenty of fashion accessories that will go down a treat. If you think smartly about it, you could put a voucher for a spa day inside one – such as a classic pre-owned handbag – for the ultimate surprise effect, ." 
ABC Elf, "What about the fellas? Is it still about gadgets for the boys?" 
Santa, "Well us boys never grow up. The phrase 'Boys and their toys' is  as true today as it always was, so pretty much, yes. Groovy Gadge to go for in 2016?  Drones are very popular. Of course, you must learn how to use them safely – the Reindeer hate getting them in the face – 
ABC Elf, "Any stocking filler alternatives?"
Santa, "Yes a few…
---
If your man's a retro console fan, you could go for gadget inspired fashion wear, how about the Game Boy wallet? It's self explanatory really, but officially licensed and very authentic looking"  
---
"Perhaps if your fella is overly stressed about the EU referendum, then the Brex*hit Book might entertain him. It's a tongue in cheek self-help book to help you come to terms with the UK departing the EU. "
---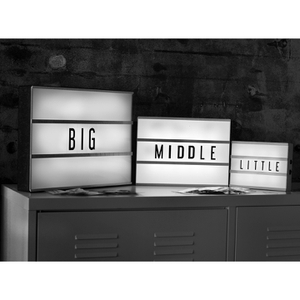 "Movie goers might like this Cinematic Lightbox. A mini version of the retro backlit cinema signage he can change the lettering round to suit with an amusing or witty message, or just his favourite film of all time."
ABC Elf, "Thank you Santa for your insight, so that's the adults dealt with – now for the tricky ones – what will the kids be pestering their parents for, for Christmas."  
Santa,"Of course, that's my real speciality, I'd be glad to."
Tune in to the ABC Selfstore blog for part two of our interview with the Big Bearded Fella to find out what the kids will really want for Christmas in 2016.