In our last post looking at homeworking, we focussed on the pre-owned handbag business. So for this one we're shifting into top gear for something a tad more manly. Well, boyish. It's Cars: Matchbox, Dinky, Corgi, Hotwheels – and all the other exciting die-cast automotive playthings that youngsters like to brum-brum and screech-screech around their bedroom floors.
Maybe it's the sense of nostalgia, but there's often money in them there wheels. It's whole other industry of used-cars – just not the more familiar one of vehicles you can physically drive to the shops. So here's a look at what makes a great second-hand-toy-car business. We'll shine our headlight on some of the rarities and look at how condition and packaging can change value drastically…Toy cars are supposed to get played with. Just like real cars the paint gets chipped, they acquire some dents and sometimes even the wheels come off. Kids across the world recreate car chase scenes from their favourite film or TV show across living room floors. Albeit today in shorter sessions between on playing on their gaming consoles. Now whilst a car so well played with is a fantastic thing (that's exactly what it is for) it probably won't be worth a great deal second hand.
If you're thinking of opening an online Car showroom as a homeworking business there are a few rules of thumb you'll need to follow. So here's a crash course in what you'll need to think about if you're thinking of rocking (and stocking) a used car business:
Rarity
Even with modern die-cast cars, some are more valuable than others. Low production runs or special editions can command high second hand prices. Buy something from a recent movie – such as Disney Pixar's Cars 2 – and they might also be an investment over the long term.
Holley Shiftwell (the British agent voiced by Emily Mortimer) is an easy find in road car mode. But if you've got a 'deluxe' version with wings – she's rarer, and usually worth around twice as much (depending on condition). But – we're still only talking £20 for a boxed model.
"Holy Online Auctions Batman – it's the batmobile."  

Usually, the older the model, the greater the likelihood that it'll be rare – as worn-out toys tend to head off to the great dismantling yard in the sky. Examples of the original Batmobile from the 1960s/70's currently sell on eBay for upwards of £100. Here's a nice example, complete with box and the all important action figures of the Dynamic Duo still sat in the front seats.
Branded cars sold as merchandise associated with  major feature films or TV series can always add to the value too – perhaps because they provide a nostalgic link they present to childhoods.
Condition
Whilst a very rare toy car might be worth something, it will be worth an awful lot  more if it is in first class condition.   A well played with matchbox steam roller from the 1950s (the die-cast toy that started it all) might only go for £10 or so on eBay, but a mint condition one in its Box can be 5 times that.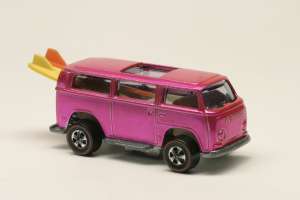 If you're looking for mega bucks though, then combine condition with rarity. In the 1960's America's Hotwheels brand prototyped many different models. They often differ rom production examples. One eBay seller has put together a handy snapshot of the top-ten Hotwheels cars (the USA equivalent to Matchbox). Astoundingly this pink VW Beetle Bus with surfboards thrown through the back window – is one of only two prototypes – and sold for $72,000. Yes, we looked twice at that amount too!
Packaging
If you've got the original box, then in many cases you'll more than double the value of your vehicle. Having it's own 'garage' makes it far more complete to collectors, mainly because they can be stored – and sucked – without damaging the car. A plastic tub full of cars all clattering around together will soon see chipped paint and damaged bodywork. So boxes are good. Beware  a  box that looks too new though. As with most collectables there are rogues out there trying to make a quick buck by reproducing 'vintage' and trying to sell it as authentic.
The Art of Making it a Business.
Making a living from buying and selling die-cast cars requires knowledge and research into which models are commanding value – and being in the right place at the right time for auctions, sale rooms, car boot sales, house clearances, jumble sales – and just about anywhere else they might crop up.
If you do decide to take the plunge, and need somewhere to store your stock as you accumulate your forecourt – then a self storage unit with us is a great solution. We make it easy for you to expand or contract the size of your unit – so you'll only ever be paying for the space you actually need.